Phone: (641) 446-2211 | Hours: Monday – Friday 10:00am - 2:00pm | Closed: Weekends and Holidays
The Decatur County Hospital Gift Shop is located in the lobby of the main entrance. The shop is staffed by Decatur County Hospital Auxiliary volunteers Monday–Friday 10:00am-2:00pm.
When you purchase an item in the gift shop, you give twice. The proceeds go toward continuing the mission of Decatur County Hospital. It also allows DCH to be the best rural hospital in the country for patients to receive care, employees to work, and providers to practice.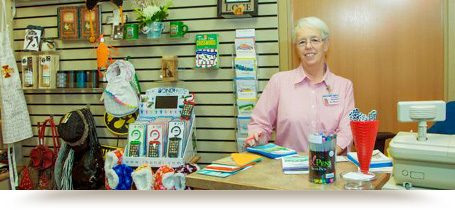 Auxiliary Volunteer Sharon South staffing our Just Because Gift Shop
If you are interested, call the Just Because Gift Shop at 641-446-2211 to talk to one of our members, or leave a voicemail and we will get back to you.