RADIOLOGY SERVICES
The Decatur County Hospital Radiology Department offers a variety of completely digital diagnostic imaging tools. This allows for the highest quality results while maximizing patient convenience and comfort. Computerized imaging provides faster service and more comprehensive records for patients. Radiologic services are available by appointment Monday-Saturday.
Some of the services our radiology department offers include:
Ultrasounds
PET Scans
CT Scans
MRIs
Nuclear Medicine
Vascular Venous Ultrasound
General X-Rays
A full product description for our latest CT scanner, Revolution Maxima. The powerful, high-performing, and reliable CT designed to maximize every step of the CT workflow, from referral to report.
Dr. Tannenbaum, Director of Advanced Imaging at Radnet Inc shares his feedback and early experience on how Revolution Maxima can optimize the care by keeping the technologists closer to the patient for a larger portion of the exam. Revolution Maxima is a cornerstone platform setting a new standard in CT operations with AI-based Auto Positioning, elevating what you can expect from every exam. GE Healthcare is a leading global medical technology and digital solutions innovator.
Medical Imaging Process
Why reproductive organ shielding is no longer recommended
You may notice we no longer shield patients' reproductive organs during imaging exams.
Based on more than 70 years of research, medical experts agree lead aprons are no longer necessary to keep patients safe during imaging exams. This is true for patients of any age, including those who plan to have children in the future. We know this is different from how things have been done for a long time.
The amount of radiation used in medical imaging has decreased more than 95% since the 1950s. Better technology means today's medical imaging equipment can make high quality images using only very small amounts of radiation.
In the 1950s, medical experts had less knowledge about how the x-ray radiation used in medical imaging affected our bodies. At that time, their concern was the radiation from an x-ray might damage cells that could be passed along to future generations. Because of this concern, lead shields were often placed over patients' reproductive organs during medical imaging exams.
Additionally, scientists have also discovered gonads are much less sensitive to radiation than previously thought. This is true for everyone, including children
and adults in their reproductive years.
No more lead shields.
Shields can cover up parts of the body your doctor needs to see. If this happens, the exam may need to be repeated.
Shields can also interfere with other radiation dose-saving features. X-ray equipment includes technology that makes sure just the right amount of radiation is used for the exam.
Sometimes a shied can interfere with this technology, which can actually increase the amount of radiation used for the exam.
If you have questions or concerns about your imaging exam, please talk to your radiologic technologist or doctor.
DCH Is an Accredited Ultrasound Provider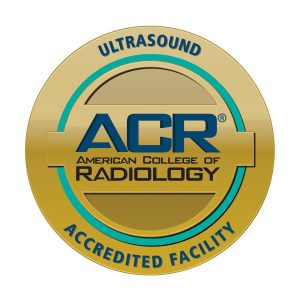 Decatur County Hospital has been awarded a three-year term of accreditation in ultrasound as the result of an extensive review by the American College of Radiology (ACR). Ultrasound imaging, also known as sonography, uses high-frequency sound waves to produce images of internal body parts to help providers diagnose illness, injury or other medical problems.
The ACR gold seal of accreditation represents the highest level of image quality and patient safety. It is awarded only to facilities meeting ACR Practice Parameters and Technical Standards, following a peer-review evaluation by board-certified physicians and medical physicists who are experts in the field. Image quality, personnel qualifications, adequacy of facility equipment, quality control procedures and quality assurance programs are assessed. The findings are reported to the ACR Committee on Accreditation, which subsequently provides the practice with a comprehensive report that can be used for continuous practice improvement.
The ACR, founded in 1924, is a professional medical society dedicated to serving patients and society by empowering radiology professionals to advance the practice, science and professions of radiological care. The College serves more than 37,000 diagnostic/interventional radiologists, radiation oncologists, nuclear medicine physicians, and medical physicists with programs focusing on the practice of medical imaging and radiation oncology and the delivery of comprehensive health care services.
For more information about radiology services contact at 641-446-4871.
ACCREDITATION FAQ
What should I know about radiation safety?
Before your imaging procedure be sure to ask your physician the following questions:
Why is the test needed?
How will having the test improve my care?
Are there alternatives that do not use radiation and deliver similar results?
Is the facility accredited by the American College of Radiology (ACR)?
Are pediatric and adult tests delivered using the appropriate radiation doses?
What does the gold seal mean?
When you see the American College of Radiology (ACR) gold seal, you can rest assured that your prescribed imaging test will be done at a facility that has met the highest level of imaging quality and radiation safety. The facility and its personnel have gone through a comprehensive review to earn accreditation status by the ACR. The American College of Radiology is the largest and oldest imaging accrediting body in the U.S. and a professional organization of 34,000 physicians.
Why should I have my imaging exam done at an accredited facility?
When you see the gold seals of accreditation prominently displayed in our imaging facility, you can be sure that you are in a facility that meets standards for imaging quality and safety. Look for the ACR Gold Seals of Accreditation.
To achieve the ACR Gold Standard of Accreditation, our facility's personnel qualifications, equipment requirements, quality assurance, and quality control procedures have gone through a rigorous review process and have met specific qualifications. It's important for patients to know that every aspect of the ACR accreditation process is overseen by board-certified, expert radiologists and medical physicists in advanced diagnostic imaging.
What does ACR accreditation mean?
Our facility has voluntarily gone through a vigorous review process to ensure that we meet nationally-accepted standards of care.
Our personnel are well qualified, through education and certification, to perform medical imaging, interpret your images, and administer your radiation therapy treatments.
Our equipment is appropriate for the test or treatment you will receive, and our facility meets or exceeds quality assurance and safety guidelines.
WHAT OUR PATIENTS ARE SAYING