DECATUR COUNTY HEALTHCARE COURTESY VAN
The Decatur County Healthcare Courtesy Van offers free transportation for Decatur County residents who have a healthcare appointment at Decatur County Hospital, Infinity Health (Leon and Lamoni locations), or Decatur County Public Health. This service was implemented as a direct result of public input received during the latest Community Health Needs Assessment, and addresses a major issue with transportation for Decatur County residents.
To schedule a ride, call 1-844-782-5420. Scheduling is done on a first come first served basis, and a 24 hour notice is required. Transportation is offered between 8:00 a.m. and 4:30 p.m. from Monday-Friday.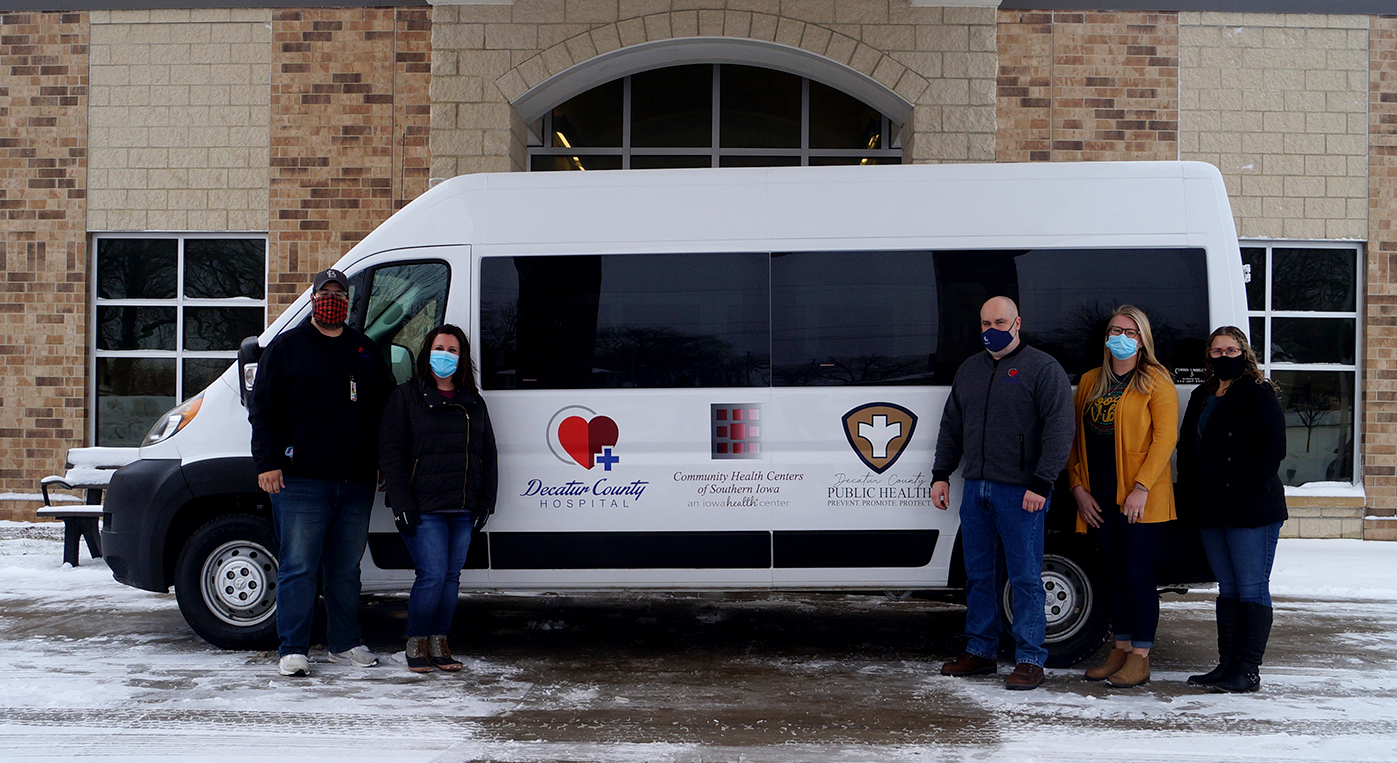 Written by: Corey Lindsey, Leon Journal-Reporter
January 2021
The Decatur County Hospital, Decatur County Public Health and Community Health Centers of Southern Iowa, Inc. (CHCSI) are happy to announce that after 52 weeks in operation, the Healthcare Transportation Van has eclipsed 2,000 rides, taking residents to their local doctor/medical appointments.
There have been 164 individuals that have used the service and 29,400 miles have been put on the van in the years' time.
The van rides are free of charge and serves all eight towns in Decatur County. Rides are scheduled by calling the Public Health Office. Scheduling is on a first come first serve basis and a 24 hour notice is required.
Heads of the three agencies all agree that the service has been very well received, even in spite of the current pandemic situation.
"It has gone real well," stated Mike Johnston, CEO of the Decatur County Hospital. "We have not heard any negative things about the program."
"For a first time project between all three of us, it has gone smooth," added Holly Rash, RN, BSN, Administrator of the Decatur County Public Health. "I would say it is one of the biggest accomplishments in the county."
"It has been well received," reiterated Samantha Cannon, CEO of CHCSI.
As seen from the beginning when these three agencies realized the need, the transportation has been a valuable service for individuals who can't drive, for family members who live away from the area and can't always take the time to get their loved ones to their appointments, and it gives families peace of mind knowing their loved ones are getting to their needed appointments.
Individuals of all ages have benefitted from this service, including the local Assisted Living.
"The transportation van has been a God send for our residents. We have struggled in the past with transportation in and out of town to doctor appointments for our residents and this service has been amazing," stated Jonda Mericle, Manager of Terrace Park Assisted Living. "It is so convenient and Jeremy [van driver] is so patient and kind with the elderly. It is definitely a service we needed in Leon and one that has made a tremendous positive impact!!"
County residents have seen the value of the program by not only being able to get to their appointments on time, but also not having to cancel them due to other unavailable transportation issues.
For 73 year old Sterling Barlow, who resides at Crown Colony in Lamoni, and has multiple health issues, this program has helped save his life.
"I require regular medical attention and with no vehicle it makes it challenging to get to appointments at the hospital and to the clinic," stated Barlow. "I was one of the first ones to use this service and I am so pleased with the access and all of the people have gone above and beyond to make it all work. The van is on time and I have become good friends with Jeremy along the way."
"We will continue this program, stay the course we are on, and continue to serve the community needs," stated Johnston. "It is also quite possible that down the road we could be having discussions on expanding the service to make other stops available to the riders."
Pictured left-right: Jeremy Yoder, Driver, Decatur County Hospital. Lindsey Campbell, Health Educator/LPN Public Health Nurse, Decatur County Public Health. Mike Johnston, CEO, Decatur County Hospital. Holly Rash, Administrator, Decatur County Public Health. Samantha Cannon, CEO, Community Health Centers of Southern Iowa.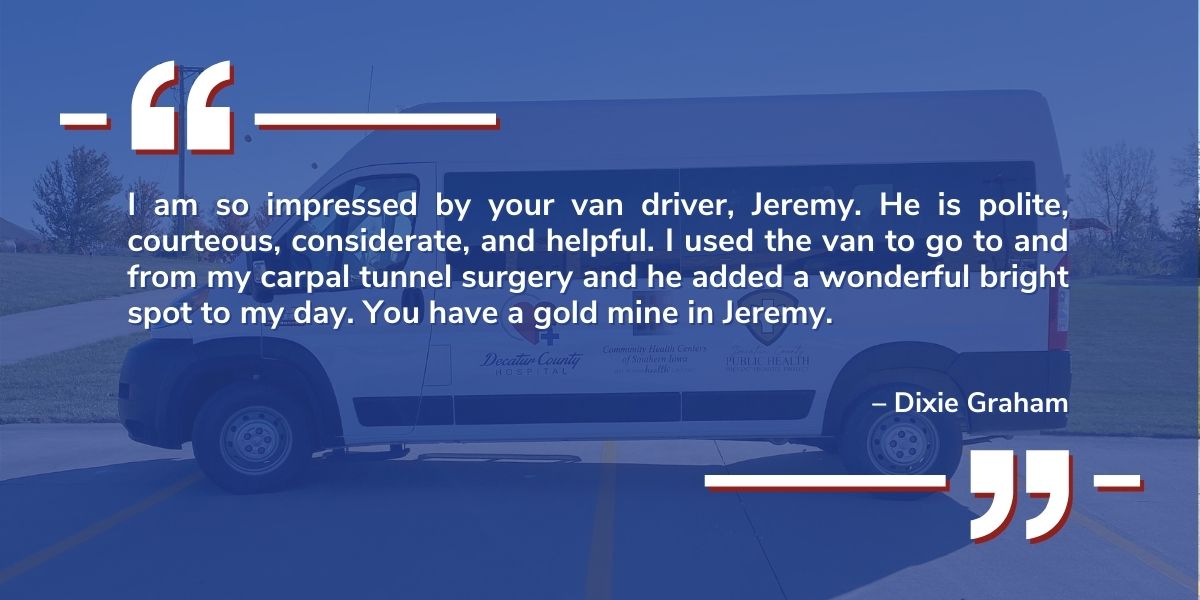 Written by: Corey Lindsey, Leon Journal-Reporter
February 2020
The Decatur County Hospital, Decatur County Public Health, and Community Health Centers of Southern Iowa (CHCSI) are pleased to announce the offering of Healthcare Transportation to residents of Decatur County.
Providing such transportation was one of the top eight needs that was discussed during a Community Health Needs Assessment that was conducted by the above three entities during the first half of 2019.
This assessment is required by the Patient Protection and Affordable Care Act and is conducted every three years and helps determine the focus of the health facilities.
Based on the research and a town hall meeting conducted on March 19, 2019, the following were deemed the top priorities for Decatur County during the next three year CHNA period: Economic Development/Employment Readiness, Substance Abuse (Alcohol/Drugs), Mental Health (Counseling/Therapists/Treatments), Child Care Services, Eye Doctors, Visiting Specialists, Public Healthcare Perception (encourage patients to seek care in Decatur County), and Healthcare Transportation.
The hospital, public health and CHCSI have joined forces to put the idea of Healthcare Transportation in motion and have made it a reality by purchasing a large conversion van that will be equipped to carry residents to and from appointments to any of these facilities in the county.
"We wanted to direct our focus to a need that offered immediate results," stated Mike Johnston, CEO of Decatur County Hospital. "This transportation need has been discussed frequently over the last several times the assessment has been conducted and we felt it was time to make it happen."
The transportation van will be available free of charge to those needing to get to their healthcare appointments. Patients will have to be established patients at one of the three locations (hospital, public health, or CHCSI) to use this service and it will be limited to residents residing in Decatur County. The van is equipped with a lift for wheelchair accessibility and there is space for two wheelchairs at the same time and/or 5-7 people. Also, no unaccompanied minors may ride. They have to be with a parent or guardian.
The primary contact for scheduling is the Decatur County Public Health. Scheduling will be done on a first come first serve basis. At least a 24 hour notice is required and patients may call 1-844-782-5420 to see about transportation. Services began Monday, January 20 and will be offered between 8:00 a.m. and 4:30 p.m.
According to Johnston, the initial cost of this project nears the $100,000 mark. This included the purchase of the vehicle. The three entities each contributed one-third in funding for the project. All operating costs, driver salary, etc., will continue to be split three-ways in the years ahead.
In an ongoing effort to keep people in the county using local facilities for their healthcare needs, the Decatur County Hospital offers a multitude of specialty clinics with a myriad of services available.
Currently DCH offers 14 different specialty clinics of which 7 have recently been added in part as a result of the Needs Assessment study.
MOST RECENT SPECIALTY CLINICS ADDED: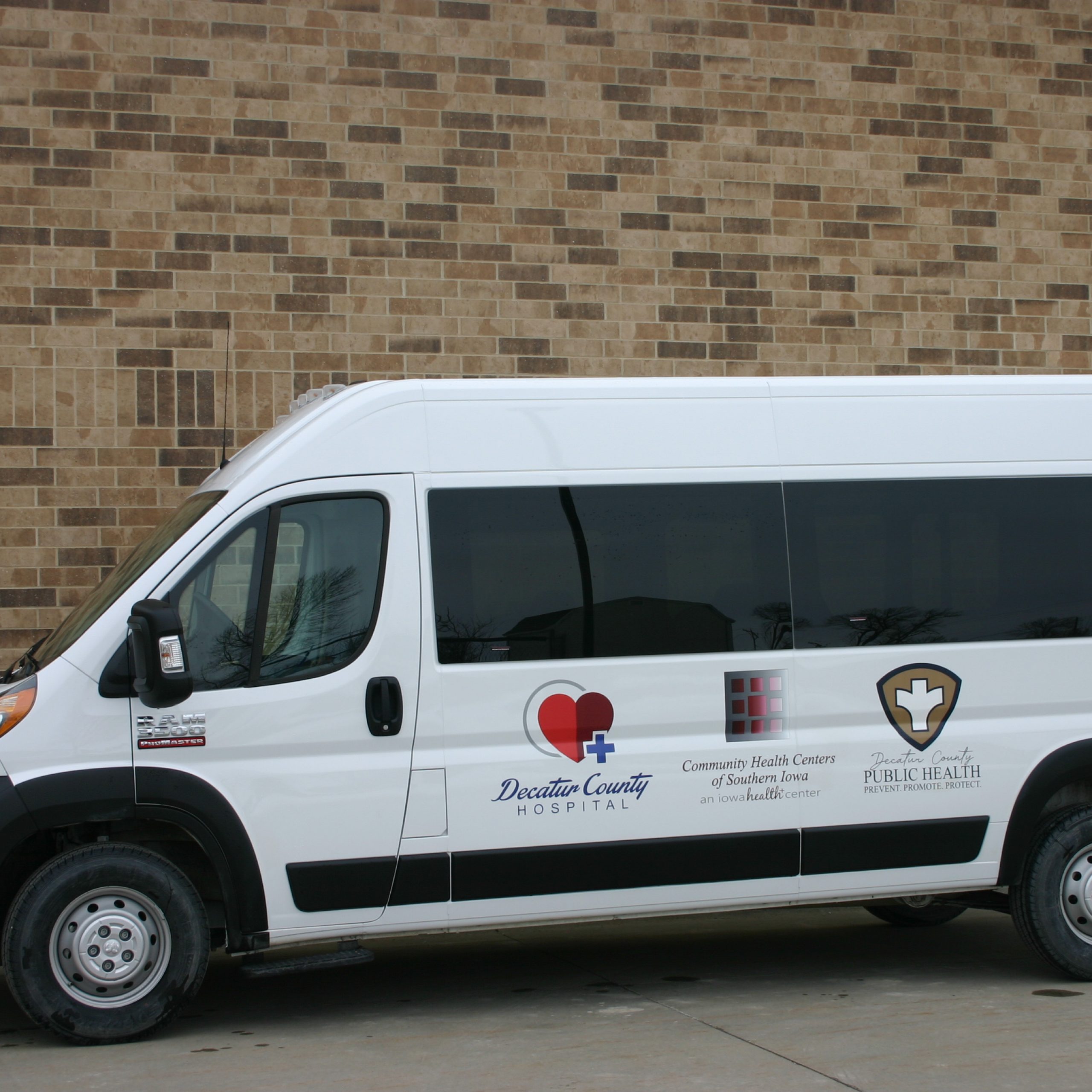 THE HOSPITAL WILL CONTINUE TO OFFER:
Mental Health and Substance Abuse needs also topped the list from the Needs Assessment Study. The Community Health Centers of Southern Iowa have addressed this need by the recent opening of the Access Center in Osceola.
With assessment and evaluation, 23 hour observation, 7 beds for subacute cases, 5 beds for crisis stabilization and residential services as well as a sobering room, peer support counseling, telehealth access and more, Osceola's CHCSI facility will provide much-needed behavioral health support and services to the community while alleviating emergency room and police commitment to such cases.
In addition, CHCSI continues to offer part-time vision services at the Leon office.
As far as Economic Development, one of the needs that was identified from the Assessment was Job Readiness.
"As part of that effort, I have secured funding to build a jobs and internship database for the DCDC website," stated Shannon Erb, Executive Director of Decatur County Development. "Along with the website, we are going to be doing some data collection, and then implement some training for local residents so they can be prepared to fill the job needs we have in Decatur County, so they don't have to look elsewhere and commute."
DCDC was also instrumental in opening of The NEST, which trains high school students with job specific skills.
Erb also pays close attention to workforce needs of the county. Through a Laborshead Study Analysis, conducted every two years (a service that is provided by the State of Iowa), data is collected to help determine what the county's workforce is and leads to training opportunities as deemed necessary.
DCDC has also identified housing (quality and appropriate) as a major need throughout the county that needs addressed.
"I have worked with ISU Extension at the state-level to become selected to take part in the pilot Rural Housing Readiness Assessment program being offered beginning this year," stated Erb. "This program will allow community members to help identify and gather data on the housing needs in our communities, and then work together on plans to solve those needs."