Your feet are the foundation of your body. When you experience issues with your feet; it affects your well-being. These issues can make it difficult to live your life in a healthy and productive way. Our podiatry specialist understands this and is committed to helping you achieve optimal foot health.
Dr. Metzger helps patients with any condition related to foot and ankle care such as:
Athletes foot
Bunions
Calluses
Claw toes
Diabetic foot care
Dislocated toes
Flat and high arched foot conditions
Fractures or sprains of the foot and ankle
Hammertoes
Ingrown toenails
Plantar fasciitis
Sport related injuries
Stress fractures
Tendonitis in the Achilles or ankle tendons
Toenail fungus
And more
Every Thursday in the DCH Outpatient Clinic, Dr. Metzger offers diagnosis, ongoing care, and surgical services to address your foot and ankle needs.
PROVIDER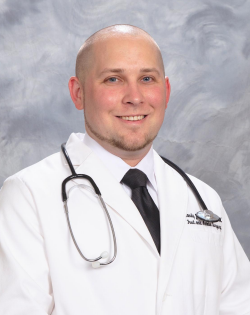 DR. RANDY J. METZGER, DPM
Dr. Randy J. Metzger, DPM of Corydon, Iowa graduated with his Bachelor of Arts and Biology from Simpson College, Indianola, Iowa. He then went on to Des Moines University Osteopathic Medical Center and received his Doctor of Podiatric Medicine and Surgery. Dr. Metzger did his residency at Geisinger Community Medical Center in Scranton, PA. in the podiatric surgical resident rearfoot, reconstruction and ankle surgery program. He is certified in the American Board of Podiatric Medicine. Dr. Metzger comes to DCH Outpatient Clinic every Thursday.
I'M INTERESTED IN Podiatry SERVICES
UPCOMING PODIATRY CLINICS
OTHER RELATED SERVICES WE OFFER