Neurology is the study and treatment of disorders of the nervous system. The nervous system is a complex, sophisticated system that regulates and coordinates body activities. It has two major divisions: the central nervous system and the peripheral nervous system. The central nervous system contains the brain and the spinal cord while the peripheral nervous system includes all other elements involved in neurologic function such as eyes, ears, skin, and other sense receptors.
Dr. Loutfi now provides Neurology services in the Decatur County Hospital Outpatient Clinic. Dr. Loutfi offers services 5 days each month, during the 3rd week of the month. Dr. Loutfi offers the following services at DCH:
Multiple Sclerosis
Migraine
Botox for migraines
Parkinson's
Dementia
Stroke
Neuropathy
General neurology
Epilepsy
Seizures
Nerve conduction studies / EMG
On Site electroencephalograms (EEGs) (click here to learn more)
In recent Community Health Needs Assessments, our community has asked for more specialty clinic providers close to home. The addition of our neurology clinic meets this need. It also fits in with many services already available at DCH. Our provider is able to use our mobile MRI, onsite PET/CT scanner, and work hand in hand with our LSVT Big and LSVT Loud programs which currently exist in our rehabilitation department.
For exceptional specialty health care, close to home, schedule an appointment in our Outpatient Clinic. Call 641-446-2285.
PROVIDER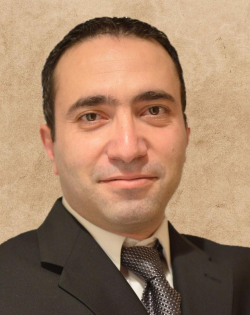 MAHER LOUTFI, MD
Dr. Maher Loutfi received his medical degree from Damascus University, completed neurology residency at University of South Alabama and fellowship in Neurophysiology at Vanderbilt University. Dr. Loutfi has been practicing neurology for over a decade. He currently offers neurological services for adults, including Multiple Sclerosis, Parkinson's, Dementia, Epilepsy (Seizures), Migraines, Neuromuscular Diseases, Nerve Pain, and many others. He specializes in Neurophysiology and Nerve Conduction Studies (EMG).
If you are living with Parkinson's disease, or another neurological condition, you might feel isolated from your peers and looking for support. At Decatur County Hospital, we believe that support for community members living with these conditions should be accessible, and improve your quality of life. Because of this belief, we are proud to announce a new monthly support group for community members living with Parkinson's disease or other neurological conditions.
Each month at Decatur County Hospital in Leon, Iowa, our Neurologist, Dr. Maher Loutfi, MD, and our Patient Advocate, Jen Barker, COTA, LPN, will host a support group for those living with neurological conditions, and their care partners. If you are living with Parkinson's disease, dementia, neuropathy, epilepsy, seizures, or other conditions, you are welcome to join this group to discuss coping strategies and treatments, and to connect with others in the same situation.
Click here to learn more. RSVPs are requested by calling Jennifer Barker at 641-446-2229.
ABOUT THIS VIDEO
In this video, Dr. Loutfi discusses tests to help diagnose and treat various nerve and muscle conditions. Captions are available for this video. Use the video tools to turn them on or off.
ABOUT THIS VIDEO
This video provides education about Parkinson's disease from our Neurologist, Maher Loutfi, MD; and a treatment option available called LSVT BIG® & LSVT LOUD® available through our Rehabilitation Services department. Click here to learn more about LSVT BIG & LSVT LOUD.
ABOUT THIS VIDEO
Watch this video to learn about Migraines and other chronic headache conditions from our Neurologist, Maher Loutfi, MD.
I'M INTERESTED IN NEUROLOGY SERVICES
Submissions through this form are not encrypted, therefore it is not a secure way to transmit personal information. We recommend you do not include personal information such as your date of birth or SSN, or sensitive information such as diagnosis or medications in this message.
Please note: submissions to this form are monitored during regular business hours. This form is NOT intended for emergency correspondence. If this is an emergency, please call your doctor, dial 9-1-1, or go to the nearest emergency department.
UPCOMING NEUROLOGY CLINICS
OTHER RELATED SERVICES WE OFFER