GYNECOLOGY & URO-GYNECOLOGY
Women have specific health needs, which require special care. To provide exceptional women's health care, DCH offers a weekly Women's Health Outpatient Clinic offering gynecology and uro-gynecology services.
Our team provides diagnosis, treatment, and support for unique and complicated health issues such as:
Aesthetic issues
Pelvic floor prolapse
Incontinence
Osteoporosis
Menopause
Pelvic pain
WOMEN'S HEALTH CLINIC SERVICES
Gynecologic services deal with the health of the female reproductive systems (vagina, uterus, and ovaries) and the breasts. An important part of maintaining your best health is getting regular gynecologic care from your first exam through menopause and beyond.
Our medical team provides personal and compassionate care for a wide range of women's services:
Abnormal pap smears
Annual screenings
Breast exams
Cancer screenings
Colposcopy
Ectopic pregnancies
Endometriosis
Evaluation and treatment of menopause
Evaluation and treatment of menstrual irregularities
Family planning including contraceptive advice and management
IUD placement & removal
LEEP procedures
Menopause symptoms
Pap smears
Pelvic exams
Pelvic pain
Pelvic organ prolapse treatment
Permanent sterilization
Evaluation and treatment of urological disorders
Uterine fibroids
Urinary incontinence
Evaluation and treatment of vaginal infections
Well-woman exams
Uro-gynecology SERVICES
Uro-gynecology is a subspecialty of gynecology that focuses on female urinary incontinence and pelvic prolapse, both of which can occur following childbirth, and as we age.
HORMONE REPLACEMENT THERAPY
Do you suffer from hot flashes, night sweats, memory changes, or decreased libido? These symptoms are often caused by a lack of balance in the hormones present in the female body. Hormone replacement therapy may be able to help. If you have these symptoms related to peri-menopause or menopause, Dr. Earle Pescatore has the expertise to diagnose and treat your symptoms and provide relief through the use of pills, patches, creams, pellets, and other hormone replacement options.
For more information about the DCH Women's Health clinic, call 641-446-2285.
PROVIDER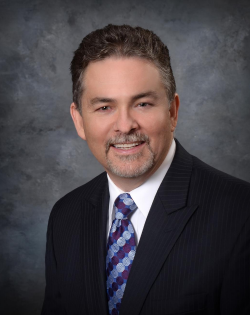 DR. EARLE M. PESCATORE, JR., DO, MHA, FACOG
Dr. Pescatore earned his Bachelor of Arts degree from William Penn University, his Doctor of Osteopathic Medicine from Nova Southeastern University, and his Masters of Health Administration at A.T. Still University.  Dr. Pescatore began his career as a battalion surgeon for the 4th Battalion, 12th Regimental Marines and went on to focus his career in gynecology and uro-gynecology.
Dr. Pescatore's achievements are many and include committee involvement, assistant professor, consultant, clinical trial studies, presentations, leadership positions, research and many awards.
Dr. Pescatore focuses on pelvic floor disorders and aesthetics. He is daVinci Robot trained and can perform many surgeries with the assistance of the robot to offer smaller incisions, faster healing time and decreased pain.
ABOUT THIS VIDEO
In this video, Dr. Pescatore details the services available in our weekly Women's Health Clinic. You'll also hear from a patient of Dr. Pescatore's who details her positive experience.
To schedule your appointment with Dr. Pescatore, call the DCH Outpatient Clinic at 641-446-2285.
ABOUT THIS VIDEO
In the video, Dr. Dr. Earle M. Pescatore, Jr., DO, MHA, FACOG, Gynecologist and Board-Certified in Female Pelvic Medicine and Reconstructive Surgery; and Taylor Kohlwey, Occupational Therapist, discuss the Women's Pelvic Floor Therapy Program now available at Decatur County Hospital.
To learn more, and take a short assessment, click here to visit our Women's Pelvic Floor Therapy page.
If you feel you could benefit from our Women's Pelvic Floor Therapy Program, call us at 641-446-2285 to schedule an appointment in our Women's Health clinic. Or, call 641-446-2219 if you have questions about the therapy process.
I'M INTERESTED IN Gynecology and Uro-Gynecology SERVICES
UPCOMING GYNECOLOGY & URO-GYNECOLOGY CLINICS
OTHER RELATED SERVICES WE OFFER