Save the time and hassle of traveling to "the big city" and get exceptional orthopedic care, close to home. Dr. Shehada Homedan specializes in orthopedic services including most fractures, shoulder and knee arthoplasty, total knee and total hip replacements, fracture management and trauma care, and other treatment methods to address pain stemming from musculoskeletal injuries or degradation. Addressing these concerns is not a one size fits all model. Every type of pain, and every patient is unique. At Decatur County Hospital, we harness the power of multiple services to ensure we diagnose your pain properly, and provide a solution that meets your needs. Orthopedic surgery services include:
General orthopedics
Hip, knee, and shoulder arthroplasty (total joint replacement for hip and knee)
Adult reconstructive surgery
Sports medicine specialist
On-site physical therapy rehabilitation
Trauma / fracture care
If you receive a referral for orthopedic surgery from your primary care physician, ask them to refer to your Decatur County Hospital so you can receive exceptional care, close to home. Call our Outpatient Clinic at 641-446-2285 to get your appointment set up.
WHAT OUR PATIENTS ARE SAYING
PROVIDER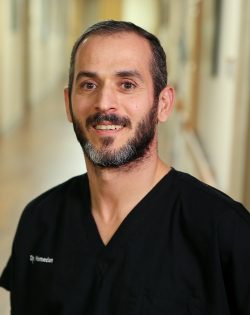 Shehada Homedan, MD
A native of Jordan, Dr. Homedan completed the rigorous orthopedic surgery program at the Jordan University of Science and Technology, followed by an orthopedic trauma fellowship at the University of New Mexico Hospital, and an orthopedic adult reconstructive and orthopedic sports medicine fellowship at the State University of New York at Buffalo.
Upon completion of his Sports Medicine Fellowship, he relocated to the Midwest and began his practice in Iowa. He enjoys working in rural communities. At times it can be challenging, but he finds it very rewarding to provide big city services close to home. He strives to stay current with the most up-to-date proven advances and best practices in orthopedics. He provides specialty procedures like Iovera (cryanalgesia) prior to total knee replacements.
I'M INTERESTED IN Orthopedic Surgery SERVICES
Submissions through this form are not encrypted, therefore it is not a secure way to transmit personal information. We recommend you do not include personal information such as your date of birth or SSN, or sensitive information such as diagnosis or medications in this message.
Please note: submissions to this form are monitored during regular business hours. This form is NOT intended for emergency correspondence. If this is an emergency, please call your doctor, dial 9-1-1, or go to the nearest emergency department.
UPCOMING ORTHOPEDIC SURGERY CLINICS
OTHER RELATED SERVICES WE OFFER