Save the time and hassle of traveling to "the big city" and get exceptional orthopedic care, close to home. Dr. Shehada Homedan specializes in orthopedic services including most fractures, shoulder and knee arthoplasty, total knee and total hip replacements, fracture management and trauma care, and other treatment methods to address pain stemming from musculoskeletal injuries or degradation. Addressing these concerns is not a one size fits all model. Every type of pain, and every patient is unique. At Decatur County Hospital, we harness the power of multiple services to ensure we diagnose your pain properly, and provide a solution that meets your needs. Orthopedic surgery services include:
General orthopedics
Total joint replacement for hip and knee
Adult reconstructive surgery
Sports medicine specialist
On-site physical therapy rehabilitation
Trauma / fracture care
If you receive a referral for orthopedic surgery from your primary care physician, ask them to refer to your Decatur County Hospital so you can receive exceptional care, close to home. Call our Outpatient Clinic at 641-446-2285 to get your appointment set up.
WHAT OUR PATIENTS ARE SAYING
PROVIDERS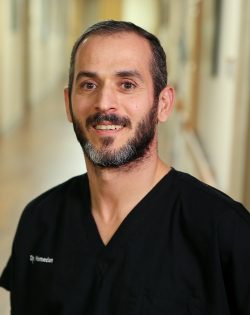 Shehada Homedan, MD
A native of Jordan, Dr. Homedan completed the rigorous orthopedic surgery program at the Jordan University of Science and Technology, followed by an orthopedic trauma fellowship at the University of New Mexico Hospital, and an orthopedic adult reconstructive and orthopedic sports medicine fellowship at the State University of New York at Buffalo.
Upon completion of his Sports Medicine Fellowship, he relocated to the Midwest and began his practice in Iowa. He enjoys working in rural communities. At times it can be challenging, but he finds it very rewarding to provide big city services close to home. He strives to stay current with the most up-to-date proven advances and best practices in orthopedics. He provides specialty procedures like Iovera (cryanalgesia) prior to total knee replacements.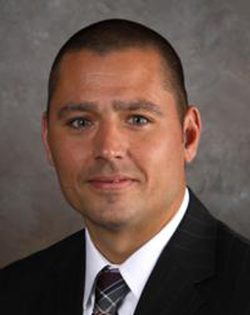 Nick Vellema, PA-C
Nick Vellema is a compassionate, personable Physician Assistant with over 20 years of healthcare experience, including 7 years in family medicine and urgent care. Nick graduated from Des Moines University where received his master's degree in physician assistant studies.  He has also completed an orthopedic surgery clinic rotation in Des Moines. Nick has a passion for learning and growing his practice as well as providing a quality patient care thorough education and guidance to ensure optimal patient outcomes.  Based in Ankeny, Nick spends his free time enjoying the outdoors and rooting for the Hawkeyes with his wife, 5 kids, 2 cats and a dog.
PARTNERSHIP WITH GOLDFINCH HEALTH
At Decatur County Hospital, you are our top priority. A positive patient experience is at the core of everything we do. In a continued effort to provide our patients with outstanding care, we are proud to announce a new partnership for those that undergo total joint surgeries at our facility. We have partnered with Goldfinch Health, an organization that provides an extra level of care for patients preparing for and recovering from surgery.
As you prepare for, and recover from a total joint surgery, Goldfinch will work with your surgical team, other hospital staff, and you to help ensure you receive care based on Advanced Surgical Pathways. These approaches are designed to enhance your preparation for surgery, better manage any surgery-related pain, and minimize your need to use addictive opioid painkillers. We are starting this partnership with patients who undergo total joint replacement procedures, and we plan to extend this service to other surgical procedures in the future. Through this partnership, we will provide access to three tools at no cost to you.
1) We will provide access to a Goldfinch Nurse Navigator. Experts in surgery and recovery, Goldfinch Nurses are here to support and advocate for you each step along the way. Whether working with your Goldfinch Nurse over the phone, or through the Goldfinch app, no question is too big or too small. The Goldfinch Nurse acts as an extension of your surgeon and the Decatur County Hospital care team.
2) A customized app is available for smart phones, and other electronic devices. This app allows you to chat with your Goldfinch Nurse at any time. The app also provides access to articles and videos to ensure you are an informed patient, and ready for your best surgery experience.
3) Prior to your surgery, a "Prepared for Surgery" care package will be mailed directly to you. This box includes a number of items key to your best surgery experience. The care package will be provided to you a few days before your surgery and your Goldfinch Nurse will guide you through use of the items included.
Throughout your journey, we are confident that our entire team—Decatur County Hospital and Goldfinch—will provide reassurance, comfort, and education when you need it.
At Decatur County Hospital, we are constantly looking for ways to improve your experience, and this partnership demonstrates our commitment to providing access to the specialists you need, who provide the care you deserve. For advanced surgical care, choose Decatur County Hospital for your next procedure.
I'M INTERESTED IN Orthopedic Surgery SERVICES
Submissions through this form are not encrypted, therefore it is not a secure way to transmit personal information. We recommend you do not include personal information such as your date of birth or SSN, or sensitive information such as diagnosis or medications in this message.
Please note: submissions to this form are monitored during regular business hours. This form is NOT intended for emergency correspondence. If this is an emergency, please call your doctor, dial 9-1-1, or go to the nearest emergency department.
UPCOMING ORTHOPEDIC SURGERY CLINICS
OTHER RELATED SERVICES WE OFFER