Our dermatology clinic can treat skin cancers and pre-skin cancers, perform annual skin evaluations, treat acne or improve acne scars, remove warts, treat eczema and psoriasis, evaluate and treat rashes, perform skin biopsies, remove moles or lesions as well as other dermatology needs. The following services are available in our clinic:
Skin cancer
Rashes
Psoriasis
Acne
Warts
Moles
Eczema
Rosacea
Fungal infections
Allergic reactions
Nail problems
Hair loss
Pigmentation
Microneedling
Microdermabrasion
Botox & fillers
Chemical peels
PROVIDER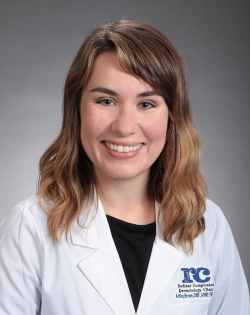 ASHLEY BROWN, DNP, ARNP, FNP-C
Ashley Brown, DNP, ARNP, FNP-C, is a doctorate-prepared certified family and dermatology nurse practitioner trained to provide care to the entire family. She is committed to providing effective skin care treatments including: medical, anti-aging, and cosmetic procedures. Her goal is to create an open and inclusive atmosphere to help patients look and feel their best.
I'M INTERESTED IN DERMATOLOGY SERVICES
UPCOMING DERMATOLOGY CLINICS
1 event,
Dermatology – Ashley Brown, DNP, ARNP, FNP-C
1 event,
Dermatology – Ashley Brown, DNP, ARNP, FNP-C
1 event,
Dermatology – Ashley Brown, DNP, ARNP, FNP-C
OTHER RELATED SERVICES WE OFFER