Decatur County Hospital Now a Test Iowa Drop Off Location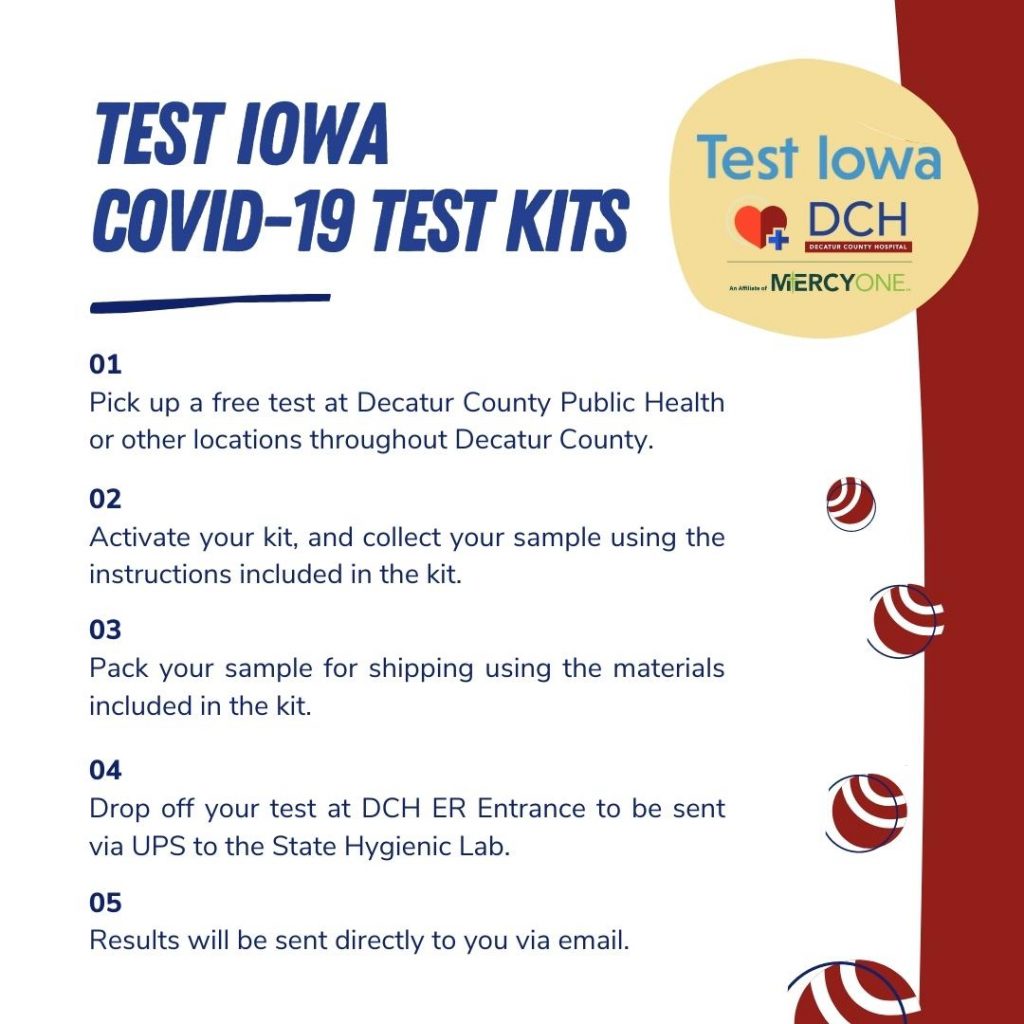 Effective immediately, Decatur County Hospital will serve as a drop off location for Test Iowa Covid-19 kits that need sent to the State Hygienic Lab. Once tests are completed, and ready for shipping, they can be dropped off in the entrance to the Emergency Room. All community members can now drop off completed Test Iowa Covid-19 test kits, no matter where they were picked up.
Test Iowa is a partnership between the Iowa Department of Public Health and the State Hygienic Lab. Their goal is to ensure all Iowans have access to free COVID-19 testing. These steps should be followed to utilize this system:
Pick up a free test at Decatur County Public Health (or other pick up locations throughout Decatur County).
Follow the instructions inside the box to activate your kit.
Collect your sample according to the directions in the box. (Please note, there are two types of kits, so please check the instructions in your box even if you've collected a sample previously.)
Place your sample into the return packaging following the instructions in the kit.
Affix the UPS return label to the packaging.
Place your fully-labeled sample in the drop off box at Decatur County Hospital at the Emergency Room entrance.
The State Hygienic Lab estimates that tests are typically received within 72 hours of shipment. Test results are provided about 24 hours after receiving the sample, unless extenuating circumstances come into play. When results are ready, you will receive an email notification directly from the State Hygienic Lab to access your results utilizing a patient portal.
If you plan to use Decatur County Hospital as a drop off location, we recommend dropping completed kits off by 9:00 am. Kits will be sent with UPS as frequently as possible, but we cannot guarantee that your sample will be sent with UPS the same day you drop it off. UPS visits our facility Monday-Friday, but not at a regular time. If you need to guarantee your sample goes out the same day, or you need to send back your kit on Friday afternoon or Saturday, we recommend taking your kits to another UPS drop off point. If left at Decatur County Hospital after UPS has picked up on Friday, samples will be sent via UPS on Monday. Other UPS drop off locations are available in Osceola, Iowa, and Bethany, Missouri, at the following locations:
SOLUTIONS
1020 JEFFREYS DR, OSCEOLA, IA, 50213-9500
Closes at 5:30 PM
Latest drop off: 3:30 PM
IOWA-ILL GAS COOP
209 W WASHINGTON ST, OSCEOLA, IA, 50213
Latest drop off: 4:00 PM
LETTER BOX
2010 W CLAY ST, OSCEOLA, IA, 50213
Latest drop off: 4:00 PM
CARQUEST STORE # 3127
1803 MAIN ST, BETHANY, MO, 64424-2042
Closes at 6:00 PM
Latest drop off: 4:30 PM
COLE HARDWARE COMPANY
1510 MAIN ST, BETHANY, MO, 64424-1968
Closes at 5:00 PM
Latest drop off: 4:00 PM
GUARANTY LAND TITLE INSURANCE, INC
101 S MAIN ST, GALLATIN, MO, 64640
Latest drop off: 3:00 PM