SPINE/NECK CLINIC AND SURGERY
Dr. Foster provides consultation, treatment, and surgical services to patients who suffer from pain stemming from spine and neck issues. He is willing to see any patient, even those that have exhausted other treatment options or attempted surgery in the past. Dr. Foster sees patients through all steps of their pain journey including diagnosis, creating a treatment plan, implementing ongoing treatment measures, and surgery when it is appropriate for the patient.
Addressing pain is not a one size fits all model. Every type of pain, and every patient is unique. At Decatur County Hospital, we harness the power of multiple services to ensure we diagnose your pain properly, and provide a solution that meets your needs. By utilizing multiple experts in various types of pain and recovery methods, you can find the best solution for you to get relief from pain.
1) Diagnosis using the latest technology. Many times, pain stems from an issue that can only be diagnosed by examining the underlying muscle and bone structure in our body. Our radiology department helps all of our providers examine these systems through ultrasounds, PET/CT Scans, nuclear medicine, vascular venous ultrasound, MRIs, and general X-rays. Our laboratory department also helps to tell the whole story by providing analysis of various bodily functions, and microscopic anomalies.
2) Therapy and rehabilitation. This specialty focuses on long term support and treatment for pain that does not need medication or surgery to correct. Many patients find relief with focused therapy and rehab. By implementing consistent, healthy habits, your pain can be lessened over time.
3) Chronic pain management. When therapy and rehab are not enough, our chronic pain management clinic can help you address your pain with a medicinal solution. If you have a pain disorder that is an ongoing concern, a long term pain solution might be your best option.
4) Surgery. In some cases, surgery is the best option to definitively correct an issue with the way your body functions. Surgeries, immediate recovery, and ongoing care are available right here at DCH. If you need surgery to address a spine or neck injury, or to correct a congenital defect, we welcome you at DCH to receive exceptional care, close to home.
For more information, or to schedule an appointment, call us at 641-446-2285.
PROVIDER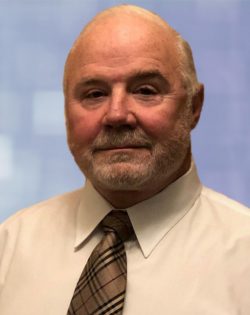 ROBERT FOSTER, MD
Dr. Robert Foster provides a spine/neck clinic and surgical services each month. Dr. Foster is a board certified orthopedic spine surgeon practicing for 35 years. He graduated from the Medical College of Georgia Medicine, and completed his fellowship in Los Angeles, California.  His practice is spine specialty with an emphasis on outpatient spinal surgery procedures.  Dr. Foster and his wife make their home in rural Iowa.
About This Video
This video comes from Robert D. Foster, MD, our Board Certified Orthopedic Spine Surgeon. In this video, Dr. Foster discusses a new service now available at DCH for back pain. A spinal cord stimulator is a device that is surgically installed during an outpatient surgery, and delivers micro electric pulses to help alleviate back pain for patients with certain conditions.
To schedule your consultation with Dr. Foster, call the DCH Outpatient Clinic at 641-446-2285.
I'M INTERESTED IN SPINE/NECK SURGERY SERVICES
Submissions through this form are not encrypted, therefore it is not a secure way to transmit personal information. We recommend you do not include personal information such as your date of birth or SSN, or sensitive information such as diagnosis or medications in this message.
Please note: submissions to this form are monitored during regular business hours. This form is NOT intended for emergency correspondence. If this is an emergency, please call your doctor, dial 9-1-1, or go to the nearest emergency department.
UPCOMING SPINE/NECK CLINICS
OTHER RELATED SERVICES WE OFFER